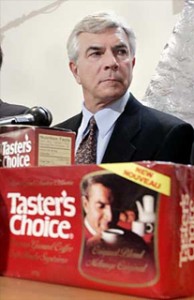 The following story is about a gentleman that went from not exactly zero to seven but from average income to 8 figures and then back down to average.
Back on Jan 27th 2005 Russell Christoff was awarded $15.6 million for two hours of work he did modeling almost 20 years earlier. At that time he was an Antioch kindergarten school teacher living in northern California. After the verdict he is quoted in the San Francisco Chronicle saying "For now, I'm just as poor as I was. But if I do get any of the money, I will take care of my mom. She took care of me."
How did that come about? One day when he was shopping at a drugstore for some Bloody Mary mix he stumbled across his picture on a Taster's Choice instant coffee label. That was 2 weeks after someone in a Home Depot said that he looked like the person on her coffee label. He shrugged that off because of his previous career as a model and actor.
Back in 1986 Russell Christoff posed for a photo session for Nestle's Canadian branch. He entered into a contract that stated that if they used the photo they would pay him $2000. In all he was paid $250 for the two hours of work. Since he was never paid the $2000, according to Christoff, he thought that was the end of it.
Russell Christoff was never notified that in fact Nestle's, the company that produces Taster's Choice, used his image in its Canadian labels right away. They later went on and used his image between 1997 and 2003 in the United States and several other countries.
The jurors concluded that Nestle should have paid Christoff $330,000 for the use of his image. They also awarded Christoff $15.3 million for damages equal to 5 percent of the profit from Taster's Choice sales during that six-year period. All in all he was awarded $15.6 million.
That sad truth for this could be millionaire is that on June 29, 2007, the California Court of Appeal reversed the jury award against Nestlé. Nestlé got the large damages award reversed on what was a limitations argument by invoking the "single publication rule."
Imagine the emotional roller coaster that he went through. Should he have taken the $100,000 out of court settlement that he was offered?